TV Aerial Installation

in

aylesbury
Aylesbury is one of many picturesque and historic towns that can be found dotted across England. Much of its rich history is on display in the Buckinghamshire County Museum, but its Heritage Walk also enables visitors and those who live within the town to learn more about its many splendid Jacobean, Tudor and Georgian era buildings.
Not that this is a town trapped in the past; in Aylesbury today, you can find fantastic car racing and water slide entertainment, as well as fabulous shows at its theatres. Live gigs at St Mary's Church unite the old and the new.
Indeed, there is so much to enjoy in the town that it might seem like there would be little reason to stay at home, but on cold and wet nights, the television has its appeal. That is why people are always on the lookout for companies offering certified aerial installation in Aylesbury.
An exterior aerial attached to the roof is essential to get a top-notch television reception, but the height of most homes makes putting it up or repairing it a tricky and dangerous task. Trying to fix an aerial when you do not know what you are doing also carries the risk of damaging it more permanently.
Fortunately, there are fully qualified firms and individuals able to provide aerial installation in Aylesbury to ensure professional fitting and repairs.
At Getmedigital, we know that finding a suitable installer can be a hassle for busy people, so we created our online directory listing to make it easy. Take a look now to find approved installers for all your home technology needs.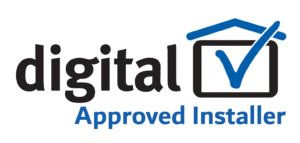 Do you want your business to be featured here?
If you register your business with us, we will go through the process of adding your business to our featured businesses list here, which will let more people looking for professionals in your area find you.