EiLive! Back for 2021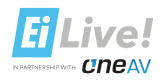 Everyone's missed getting out and networking during the pandemic, but as we ease out of lockdown it is great to see old favourites returning to centre stage.
The much loved and successful EiLive! Show is set to return September 29th – 30th 2021 at the Farnborough Exhibition Centre.  The show was postponed a couple of times during 2020 but is expected to come back with a bang.
It is now in its tenth year and returns in 2021 with an expanded format which covers their related and inter-connected sectors – this provides exhibitors and visitors an unique opportunity to get back together with their counterparts in the sector and also create new relationships and links.
The show will once again include the Smart Building Awards and there is plenty of time to get involved – registration is now open here.
The show covers home automation, entertainment, and AV systems but will also encompass commercial building automation plus include smart products and products from the world of electrical contracting – a truly exciting and well rounded show.
Check out more here.