Installer Insurance
Insurance solutions for Getmedigital members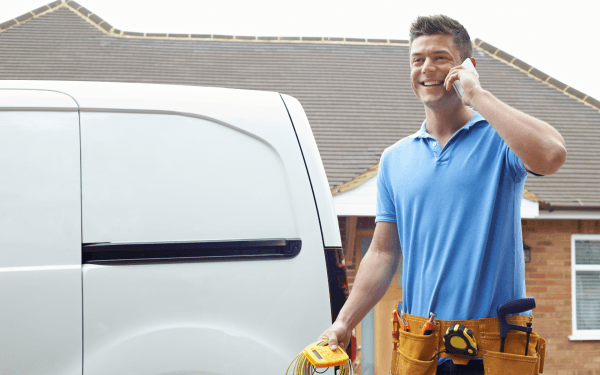 Getmedigital members face a diverse range of risks that can often require specialist insurance programmes that include specific elements of cover. The importance of having adequate insurance cover when working in this sector should not be underestimated.
Getmedigital's Insurance broking partner Gallagher offers tailored solutions in order to meet the diverse needs of members, whether a self-employed installer, installation company, manufacturer, distributor, wholesaler, retailer, or service provider.
From specialist insurance packages that cover the key risks of small contractors, all the way through to a tailored programme for individual needs, offering competitive premiums.
T:

01384 500240

Getmedigital are committed to ensuring that members have adequate cover and encourage you to contact the specialist insurance team for a no obligation health check on your existing insurance programme. Key points to consider include;
Business description and activities undertaken

– Does your insurer and/or broker understand all of the types of work you undertake?  Inadequate business description or undertaking activities not specifically listed on your insurance schedule is a common cause of claims being declined.


Working locations

–

Does your current policy restrict the types of premises on which you can work whilst being covered? Many insurance policies could restrict cover to work on domestic premises only, with maybe an acceptance of some occasional light commercial work, but this is an area of some variation and we would always recommend that any such restrictions are understood before starting work.

Public Liability limits

–

Is your sum insured appropriate for the type of work and location?  Bodily injury claim costs and compensation awards have risen considerably over the last three years and taking an increased limit of indemnity is often more cost effective than you would think – especially when compared to being faced with a shortfall in the event of a significant claim.  As an example, if the courts awarded a claimant a £3m settlement following a head injury caused by falling tools or equipment, but the insurance policy limit was £1m, the likely outcome for the business owner is loss of all personal assets and, ultimately, bankruptcy.

Employers' Liability

–

Do you have people that work for or with the business? even if they are family members, clerical workers, temporary workers or sub-contractors?  A common insurance gap for the small business owner is to only purchase Employers' Liability cover for full-time manual workers, leaving them potentially open to fines or even prosecution from HSE.

Business Stock

–

Do you have stock/inventory for the work you undertake? If you rely on storing/carrying stock then it is important to consider adding stock to your contents insurance, if you are transporting goods, you should also consider goods in transit cover. It is important to protect your business against circumstances such as stock theft, loss or accidental damage that may leave you out of pocket.

Tools & Equipment

–

A risk faced by many that can face tradespeople is the potential theft or accidental damage of tools and equipment. Without tools and specialist equipment you would be unable to do your job and it could be an expensive outlay to replace them. This insurance covers the cost of replacing your tools and equipment if such an event occurred, allowing you to focus on getting back to work as soon as possible with minimal interruption.

Efficacy Cover (failure to perform)

–

If the work you carry out, or a product that you've installed, fails to carry out its intended purpose, it's possible that your customer could seek compensation from you for any financial losses that occur as a result.   It is important that contractors/installers consider this cover and that they are covered for the work they carry out if it involves networks, security or high-end expensive equipment.  Making corrections to an installation where your design prevents performance, purchasing additional or replacing equipment, and even having to make building adaptations can be costly, but the consequential losses can also mount up quickly.  Failures that lead to physical or data security issues or network failures will certainly come with a risk of significant expense.  Whilst efficacy is a peril that may be covered by some Public and Products Liability policies, it can often come with restrictive conditions or be excluded altogether.
Benefits of the Gallagher service
Advice – Professional advice and guidance on obtaining suitable covers to help protect a business when it needs it most.
Competitive Premiums – Using our experience and knowledge of the insurance market we will work with a business to find a competitive premium by searching rates from across our carefully selected panel of insurers.
Straightforward – We understand that obtaining a quotation can feel complicated; our team is on hand to help guide businesses to make the quote process easier to save time and effort.
Unique – Additional covers and policy benefits specifically available for Gallagher customers.
Flexible payment options
Flexible payment options (including monthly instalments) are available* to suit your own preferences and each policy holder is assigned a dedicated Account Handler to offer advice and support throughout the policy lifetime.
Speak to the team
If you have any questions about your current insurance programme, are coming up for renewal or require any further information please contact the Gallagher team for a no-obligation review and quotation.
T:

01384 500240

Opening hours are Monday to Friday 09:00 17:00
*We work with a third party company called Premium Credit Limited ('PCL'), which manages instalment payments. We act as a credit broker and we are not a lender. If you have opted to pay by monthly direct debit, we will pass your details to PCL and they will make a credit decision about you, which may include a credit check being carried out. Please let us know immediately if you do not consent to us sharing your details with PCL. If PCL agrees to provide you with credit you will receive a welcome pack including a credit agreement from PCL, which you will need to sign and return to PCL. Failure to return the credit agreement within 14 days of their letter will result in an administration charge of £10.00. Please note that PCL has its own set of terms, conditions and charges and you should familiarise yourself with these carefully. We may receive a commission for introducing you to PCL.
RDI (UK) Holdings Limited trading as getmedigital is an introducer appointed representative of Arthur J. Gallagher Insurance Brokers Limited which is authorised and regulated by the Financial Conduct Authority. Registered Office: Spectrum Building 7th Floor 55 Blysthwood Street, Glasgow G2 7AT. Registered in Scotland. Company Number: SC108909. WB47-2021, 27.05.2022